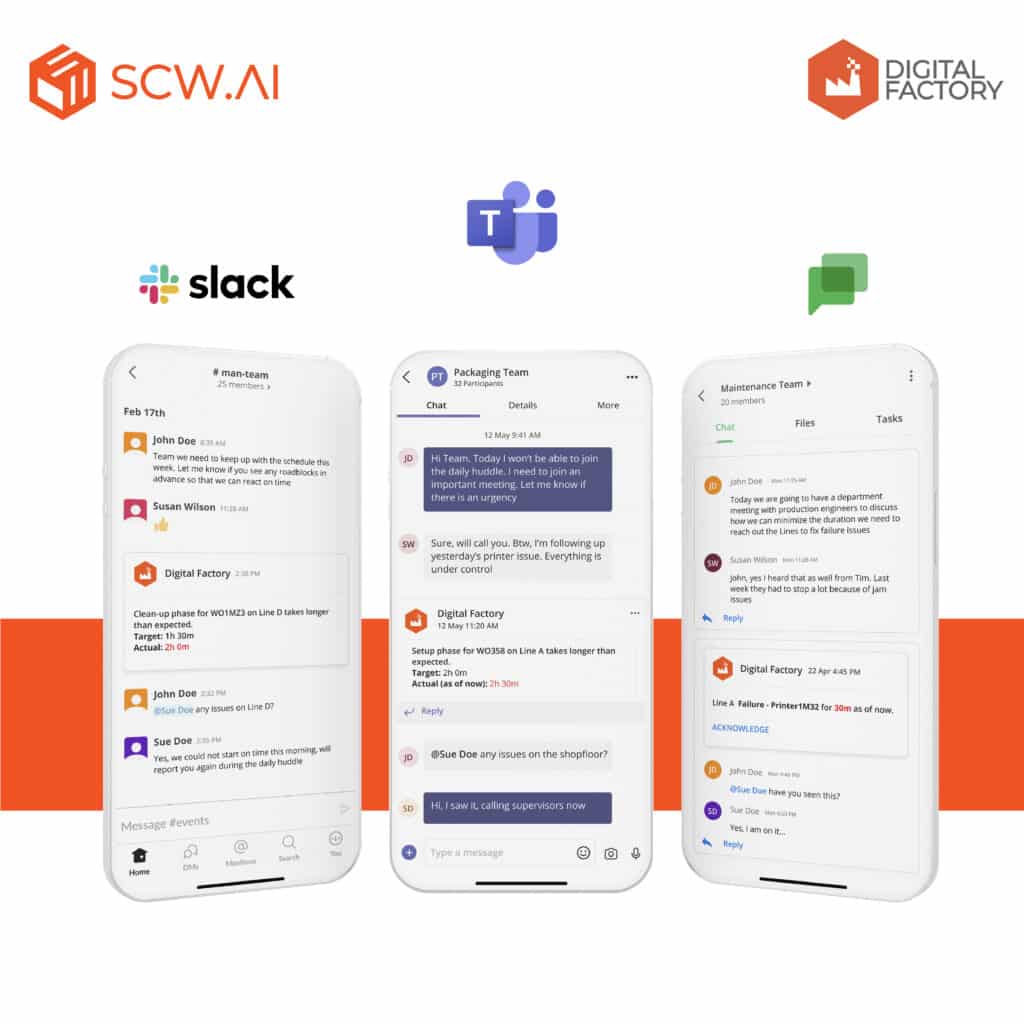 Direct and effective communication is vital for running a smooth operation in the shop-floor as it assures timely response and decision making, resulting in a significant reduction in delays and potential hazards in the shop-floor. This is crucial, as issues stemming from miscommunication can cause delays, errors and accidents which can adversely impact your business. 
Preventative action must be taken to solve these issues which could range from setting up alerts and streamlining the communication process in the shop-floor to implementing a chat-room. Yet, doing so by conventional methods may be even more disruptive in the shop-floor as a fully integrated communication basis is necessary for the omission of human error.
That is why we developed the Alert & Chat feature, the solution to end all of your communication problems in the shop-floor, for SCW.AI OEE Tracker.
Smart Alerts and Notifications for Enhanced Shop-floor Efficiency
Our Alert & Chat feature provides every necessary real-time alerts and notifications needed to maximize your communication efficiency, ranging from downtime and failure alerts, work order completion, and incident notifications to unexpected shop-floor anomalies. You can receive these instant alerts and notifications through various channels including email, SMS, push notifications, chat room notifications (e.g., MS Teams)  and in-app notifications, ensuring that you stay informed and responsive regardless of your preferred communication method. These instant alerts and notifications assure timely decision-making by strengthening the structural communication in the shop-floor. 
Empower Your Team with a Fully Integrated Chat Room
A chat room is crucial for the harmonization of communication between team members, which ultimately results in a more cohesive shop-floor that boosts productivity while eliminating possible delays and accidents. Our Alert & Chat feature boasts a fully integrated chat room that supports Teams, Google Chat and Slack. Thanks to this integration, the system automatically sends a notification to your team's preferred communication platform as soon as an alert is received that matches your specified criteria, allowing your team to communicate swiftly for faster resolution. Never miss a notification again!
Ready to say goodbye to delays and miscommunication? Experience the power of real-time alerts, integrated chat room capabilities, and event-triggered notifications with Digital Factory!
To explore Alert and Chat & OEE Tracker and find out more about Digital Factory Platform